On September 24, 2015 the National Energy Board (NEB) did something remarkable. They stopped time. More precisely, they traveled back in time, to September 18, 2015, stopped time, then traveled back to the future, to January 8, 2016 to start it again. In the words of the Time Lord, Dr. Who, time is indeed "wibbly wobbly timey wimey stuff?"
You may be wondering: what prompted the the NEB to push the laws of theoretical quantum physics? Was there some major innovation in the Oil and Gas sector? And where did they get the power? Do they travel in a TARDIS or a Delorean or some device designed by oil and gas industry engineers? Let me explain: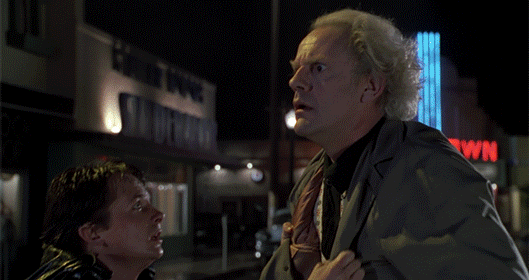 NEB Time Travel, Step by Step
In 2012 the National Energy Board Act was amended – part of a series of amendments gutting Canada's environmental laws. One of the amendments said that the NEB had to review projects in 15 months.  The NEB said that this limit on the length of reviews for major pipelines and other projects would "maintain [its] efficiency and enhance certainty and predictability for all parties involved."
But the amended NEB Act, in a provision that would be envied by Doc Brown and Time Lords everywhere, also granted the NEB the power to stop the clock on that 15 months. 
So how does that power to stop time work in real life?  The NEB has now used these useful powers twice in relation to the Kinder Morgan Pipeline and Tankers Expansion.
When the (unilaterally, without input from First Nations, local governments or others) NEB issued its decisions on April 2, 2014,which declared Kinder Morgan's application complete, and set out the review process, it started the clock on the 15 month time limit. That would have resulted in the NEB releasing their recommendation on July 2, 2015.
The first example of the NEB bending the space-time continuum occurred in July 2014, they stopped time when Kinder Morgan decided it was easier to drill through Burnaby Mountain than convince local residents who had lived through the 2007 spill that the pipeline was a good idea, and needed additional time to study its new route. That exclusion period stopped time for 7 months, from July 11, 2014 to February 3, 2015.

2007 Kinder Morgan oil spill [source: Wilderness Committee]
The resulting decisions and event around Burnaby Mountain were controversial, to say the least. But controversy is not new to the NEB. Indeed, this process has been mired in controversy from the beginning, with the NEB (among other decisions):
limiting participation;
excluding climate change from its deliberations;
failing to allow sufficient testing of Kinder Morgan's evidence; and
refusing to force Kinder Morgan to disclose emergency response plans to local governments and the Province.
In addition, 12 First Nations filed an open letter calling the process unconstitutional. Seven local mayors issued a statement of non-confidence in the process. High profile intervenors withdrew from the process, calling the process (in the case of former ICBC President Robyn Allan) "rigged" and (in the case of former BC Hydro CEO Marc Eilessen) a "fraudulent." Both Eilessen and Allan stated that the NEB is a "truly industry captured regulator."
The latest NEB time-stoppage
This time around, the NEB is stopping time for 5 months, turning the 15 month time limit into nearly 27 months in 'real time'. What happened? 
One of the federal government's final acts before dissolving parliament and calling the election was to quietly appointed Steven Kelly as a permanent member to the NEB on a Friday before the August long weekend. Mr. Kelly is the vice-president of IHS Global Canada, an oil industry consulting firm that happened to include among its clients, Kinder Morgan. In fact, Mr. Kelly personally authored a key report that was part of Kinder Morgan's economic analysis. This did not help the NEB's reputation as an industry captured regulator.
It didn't require a time machine to look forward into the near future and see an onslaught of litigation and public outrage about this apparent conflict of interest and allegations of bias. And the NEB panel abruptly halted the process with a letter issued on August 21 at 2:30 PST, less than one business day before final arguments were to be made by Kinder Morgan in Calgary.
In their letter, the panel wrote:
The dual role of Mr. Kelly, as a person who prepared evidence in this proceeding and as a future Board member, may raise concerns about the integrity of this hearing process. With this in mind, the Panel has decided on its own volition to strike from the hearing record all evidence prepared by or the under the direction of Mr. Kelly.
In its response, Kinder Morgan told the NEB that they would just replace Mr. Kelly's stricken evidence with that of another oil industry consulting firm, and continue on with the proceeding.
But it's hard to unscramble an egg, even with a time machine. In response to Kinder Morgan's proposal, the City of Burnaby wrote:
 "The striking of Mr. Kelly's evidence by the Board in no way cures the perception of this review process as biased or unfair […][The pipeline hearing] must start again from the beginning with the appointment of a new panel in order to cure what the board has referred to as "concerns about the integrity of this hearing process,"
All of this led to the September 24 decision, where the NEB announced that it had stopped time on September 18, 2015 in order to receive Kinder Morgan's replacement evidence, and allow for one new round of information requests and intervenor evidence. Kinder Morgan's record of answering the information requests has left many intervenors unsatisfied.
The NEB set new dates in Procedural Direction 18, declaring that time would start up again on January 8, 2016, but not until after Kinder Morgan files its final argument (December 15, 2015) and makes its final oral submissions in Calgary (December 17, 2015). After time starts running again in January, the schedule resumes with Intervenor written arguments (January 12, 2016) and oral argument (Jan/Feb 2016 location TBD).
Confused? As Dr. Who once said (or perhaps will say – hard to tell with a Time Lord): "Hold tight and pretend it's a plan."
As a result of their time travels, the NEB now expects to issue its recommendation to Cabinet on May 20, 2016, two years after the original hearing order was issued. This, according to Kinder Morgan will cause construction delays, which in turn would cost them money.
Peering into the future
But will the May 20, 2016 date stand? There are a number of questions outstanding. The NEB is still dealing with motions from Tsleil-Waututh Nation and the City of Vancouver about Kinder Morgan's improper reply evidence. In addition, the Tsleil-Waututh Nation appeal of the April 2, 2014 decisions will be heard by the Federal Court of Appeal in Vancouver on October 27, 2015 – a proceeding that could send the NEB back to the drawing board on its review process. And finally, the federal election could see a change in government – with both opposition parties vowing to reform our broken regulatory system.
It is not surprising that the NEB has had to use its ability to stop time to nearly double the 15 month time limit. It was an unrealistic time frame for a project as complex and controversial as the Kinder Morgan Trans Mountain Expansion. The amendments that were meant to provide certainty and predictability for pipeline proponents have ironically done just the opposite: the regulator has had to use its extraordinary time bending powers twice just to try to preserve the legitimacy of their process. And even without a time machine, it is not hard to predict that the gutting of our environmental laws will result in more litigation and more delay.
As Dr. Who said:
"There are some corners of the Universe that have bred the most terrible things. Things that act against everything we believe in. They must be fought."